Kodanda Rama Swamy temple: Kodanda Rama Swamy Temple located at Tirupati in Chittoor district is very special for its uniqueness of Sri Rama Idols. This temple is located at the main centre of Tirupati. This article gives you details regarding History of Kodanda Rama Swamy Temple, Timings of Temple, Pooja, festivals etc.,
Kodanda Rama Temple Tirupati
| | |
| --- | --- |
| Name of the article | Sri Kodanda Rama Swamy temple |
| Place | Tirupati |
| District | Chittoor |
| State | Andhra Pradesh |
| Diety | Lord Sri Ram |
| Affiliated to | Hinduism |
| Governing Body | Tirumala Tirupati Devasthanams (TTD) |
Kodanda Rama Swamy Temple Timings
Kodanda Rama Swamy temple Timings: This temple is at the heart of the Tirupati city. The timings for darshan at Kodanda Rama Swamy temple is given in the below table
| | |
| --- | --- |
| Morning Darshan | Starting time 5:00 AM Closing Time 12:00 Noon |
| Afternoon | No Darshan from 12 Noon to 4:00 PM |
| Evening Darshan | Starting time 4:00 PM Darsanam Closing Time 9:00 PM |
sri kodanda rama swamy temple tirupati timings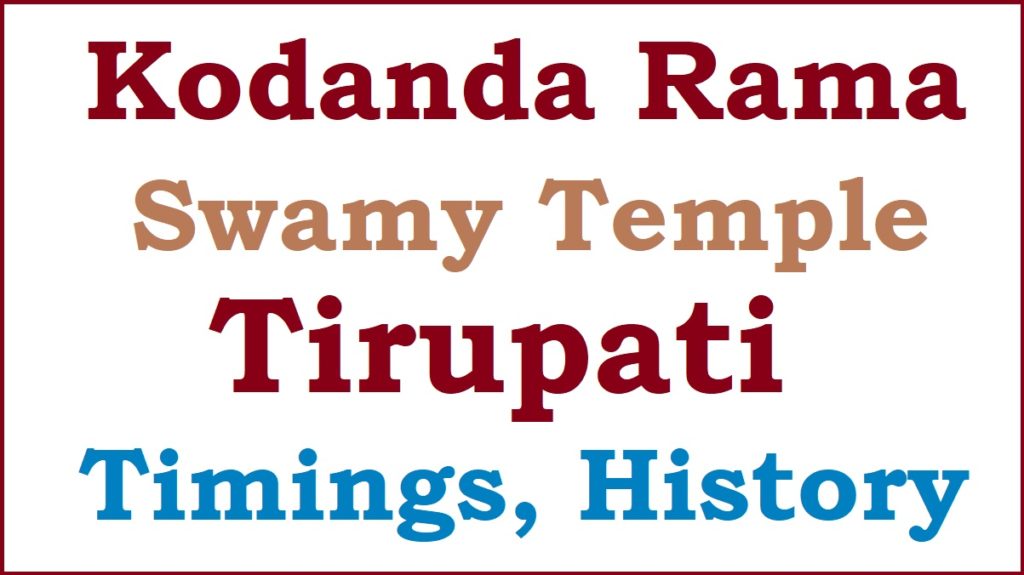 Sevas or Poojas Performed Kodandarama Swami Temple:
Suprabhatam
SIta Ramula Kalyanam
Abhishekam
Ekanta Seva etc…
In this temple, Lord Rama is in the middle, Sita Devi is on right side of Rama Chandra Swamy and Lakshmana Swamy is oj Left Side of Rama Chandra Swamy. In general, at many temples swami and Sita Devi are placed vice versa.
History of Kodanda Rama Swamy Temple
According to Bhavishyottara Puranam, Lord Rama during search of Sita Devi , got Bathe in the Pushkarani located here to get successful in searching Sita Devi. After that this temple was constructed by Jambavanta. It is also said that, during Treta Yug, there is a cave in the place of temple. From that cave there gets a light, as it indicates the arrival of Rama.
How to Reach Tirupati Kodandarama Swamy Temple ?
By Bus: The nearest bus stand to kodanda Rama Swamy temple is Tirupati at a distance of 1.5 KM. From Tirupati Bus stand, devotees can reach the temple through bus or auto or car. Number of buses are available to reach Tirupati from all main cities of Andhra Pradesh like Vizag, Nellore, Guntur etc.,
By Train: The nearest Railway Station top this temple is Tirupati. From Tirupati railway Station, the temple is at a distance if 1.7 KM.
By Air: The nearest airport to this temple is Tirupati Air port, which is at a distance of 18.8 KM. From airtport, cars are availble all the time.
Festivals celebrated: There are many festivals celebrated in this temple, as Lord Rama is incarnation of Lord Maha Vishnu, all festivals of Vaishnavas are celebrated here like Sri Rama Navami, Vaikunta Ekadasi, Chiluka Ekadasi etc.,
Architecture of Sri Kodanda Rama Swamy Temple Tirupati:
The temple present appears was constructed during 10th Century AD by Chola kIng. It's also rennovated by Vijaya Nagar kings. The temple architecture was beautiful and one can see Bhagavtha, Ramayana stories and a number of Gods pictures on pillars of the temple.
This temple contains Mukh Mandapam, Pradakshina Mandapam, Antaraalayam, Garbhaalayam. From Mukh Mandapam to Pradakshina mandapam, there are 18 pillars. Opposite to the first pillar of Mukh mandapam, we can see Vimana Venkateswara Swamy.
As this temple is under TTD (Tirumala Tirupati Devasthanams), all poojas and sevas are performed according to Aagama Sastra. There is also Garuda Mandayam infant of Swamy Mandapam. Also there are Pancha Bhera Murthulu inside the temple.
Temple Address:
Kodanda Rama Swamy Temple,
7/3/102, RS Mada St, Nehru Nagar, Tirupati, Andhra Pradesh Pincode: 517501