Japali Teertham, Tirumala: Japali Hanuman Temple, Tirumala Visiting Places. How to reach Japali Hanuman Temple Tirumala | History, Ticket Price, Route | Japali Hanuman Temple Timings.
Japali Temple
Japali is famous for Lord Hanuman temple in Tirumala. Japali is a place situated in the dense forests of Tirumala which is at a distance of 7KM from Lord Venkateswara Swamy Temple. This article gives you some details regarding Japali Hanuman Temple like temple timings, Pooja or sevas at temple, history of the temple etc.,
| | |
| --- | --- |
| Name of the Temple | Japali Hanuman Temple |
| Place | Japali Teertham |
| Hill Station | Tirumala |
| Diety | Lord Hanuman |
| City | Tirupati |
| District | Chittoor |
| State | Andhra Pradesh |
| Supervised by | Mahanthu Sri Sri Sri Arjun Das |
Japali Hanuman Temple
Japali Hanuman Temple Timings
Japali Temple Timings: As this is a temple located in the forest between various kinds of trees includes medicinal plants, big banyan trees, other oak trees etc. This temple is on Seshachalam hills. Due to this hilly and forest area, this temple timings are short and particular.
Morning
Darsanam Starting time 7:00 AM
Darsanam Closing Time 1:00 PM
Afternoon
Darsanam Starting Time 2:00 PM
Darsanam Closing Time 7:00 PM
Sevas or Poojas at Japali Temple: There are particular pooja or seva conducted in Japali temple every week. Like Veda Parayana Abhishekam, Archana, Abhishekam etc.,
Abhishekam is conducted every Tuesday in the morning at 7:00 AM.
The following table gives you prices of Pooja at Japali temple.
| Pooja | Price |
| --- | --- |
| Entry | Rs.2.00/- |
| Harathi | Rs.5.00/- |
| Archana | Rs.10.00/- |
| Abhishekam | Rs.1100.00/- |
Ticket Prices of japali hanuman temple
Japali Hanuman Temple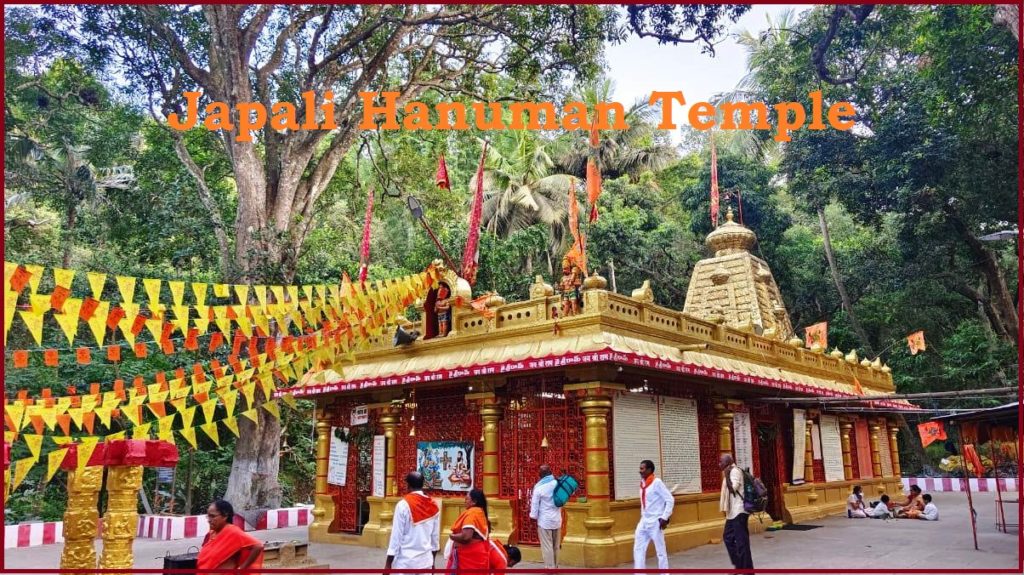 About Japali Temple:
This temple is situated on Seshachalam hills. Japali temple is supervised by Mahanthu Sri Sri Sri ArjunDas Ji. The temple Poojari is Sri Ramdas Balaji came to Japali several years ago and performed poojas to Japali Hanuman. Many years ago there is no proper route to reach the temple. Now route was proper and have steps to walk towards the temple.
How to Reach Japali Teertham Temple?
By Bus: There are many buses available to Tirupati from all main cities of Andhra Pradesh. From Tirupati Jeeps, buses, cars are available to Tirumala. From Tirumala also APSRTC buses, cars available to Japali. From Tirumala, Japali is at a distance of 5KM.
By Train: There are many trains to Tirupati. From Tirupati you can go to Japali by bus or car via Tirumala.
History of Japali Hanuman Temple:
History of Japali Temple: A Maharshi named Javali reached Seshachalam hills to foresee the avatar of Hanuman. The Lord satisfied with the prayers of Maharshi Javali and created a Swayambu Idol of Hanuman with his Penance. Due to the penance of Javali, this place is called as Japali. As this place is sacred, the theertham here situated is called as Rama Kund. After Rama killed Ravana, returning to Ayodhya Lord Rama had his bathe in this kund. So called as Rama Kund. It is believed that, water in this theertham has some magical powers, bath in this kund cleans all sins. This is the site of hermitage, of Japali and later his disciples and next Agasthya Maha muni and his disciples.
Festivals celebrated: There are many festivals celebrated in Japali temple, Some of the festivals are Ksheerabdi Dwadasi, Hanuman Jayanthi, Kumaradhara Magma Pournami.